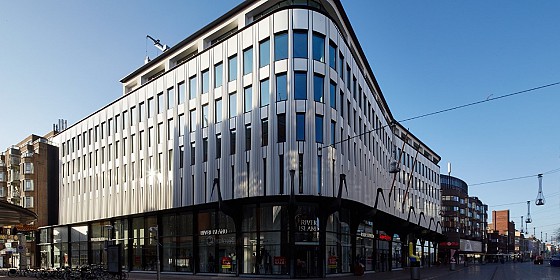 Bever opens its new larger store at a prominent location in The Hague
On behalf of Bryant Park Maxima VII B.V., Impact Vastgoed and Nieuw Holland Projectontwikkeling have concluded a new lease with Bever, one of the most important market players in the retail sector for indoor and outdoor sports goods, including clothing and footwear  as well as camping, water sports, winter sports and expedition equipment and related articles, all in accordance with the Bever format.
The new store has approx. 1,013 sqm of retail space, of which approx. 89 sqm is on the ground floor and approx. 924 sqm on the first floor, together with storage space. The Bever store is already open to the public.
'Bever is the leading outdoor sports retailer in the Netherlands, with the biggest range for walking, camping, climbing, travel, winter sports, cycling and much more. Bever has more than 40 stores throughout the Netherlands.'
Bever is seeking new locations to open new shops or to expand some of its existing shops.  
The lessor, an institutional investor, was advised by Nieuw Holland and its asset manager Cording Real Estate Group. The lessee was advised by KroesePaternotte.